News & Events Concrete Sask
Annual General Meeting - Thursday, November 23rd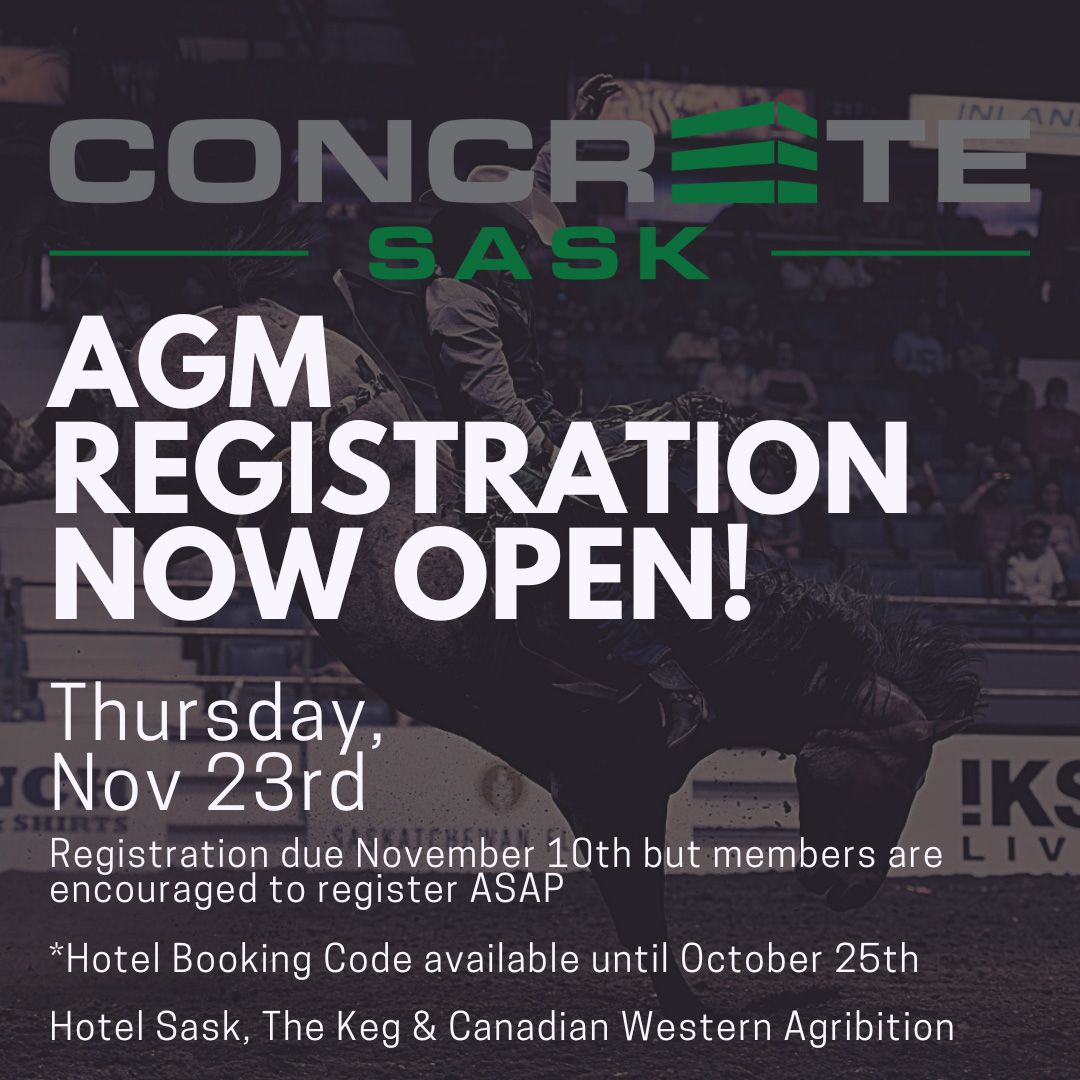 Thursday, November 23rd 2023
Annual General Meeting – Hotel Saskatchewan
8:30am – Registration & Breakfast
9:00am – 2:00pm Meeting
12:00 lunch
*Optional Dinner 5:00pm sharp at the Keg on Dewdney Avenue
Accommodations:
The Hotel Saskatchewan, Autograph Collection 2125 Victoria Avenue, Regina, SK S4S3P8
Guests to directly call Marriott Reservations at 1 (306) 522-7691 on or before Wednesday, October 25, 2023, to make their sleeping room reservations. Guests are to identify themselves as part of the Concrete Saskatchewan group.
Registration:
Full Registration: Includes breakfast, lunch, dinner, shuttle & rodeo: $215.00 + GST
Meeting Only (Includes Breakfast & Lunch) $95.00 + GST
Optional Dinner at the Keg: $75.00 + GST *does not include beverages
Rodeo: $42.00 + GST
IMPORTANT INFORMATION:
Guests are to make their own arrangements to go to The Keg 2515 Dewdney Avenue for
5:00pm.
A shuttle will pick up guests at approx. 6:30/6:40pm to get everyone to the Evraz Place for the
Rodeo which starts at 7:00pm
Everyone will be responsible to make their own arrangements to return to the hotel after the
rodeo.
There will be a set menu that you may choose your meal when you arrive. (menu attached to
preview it beforehand)
Please do not leave registration to last minute.

 Rodeo tickets are only on hold until November 1st, we cannot guarantee that will be able
to get tickets in the section we have reserved if you miss the deadline.
The Keg has reserved 50 guests for dinner. If we need to increase or decrease the
reservation, we will need to do so ASAP as Canadian Agribition makes it VERY busy at
restaurants during that week.
IF YOU ARE INTERESTED IN GOING TO THE DINNER AND/OR RODEO YOU HAVE UNTIL NOVEMBER 1ST TO LET ASHLEY KNOW. RODEO TICKETS ARE ON HOLD ONLY UNTIL NOVEMBER 1ST
Registrations must be submitted by November 10th 2023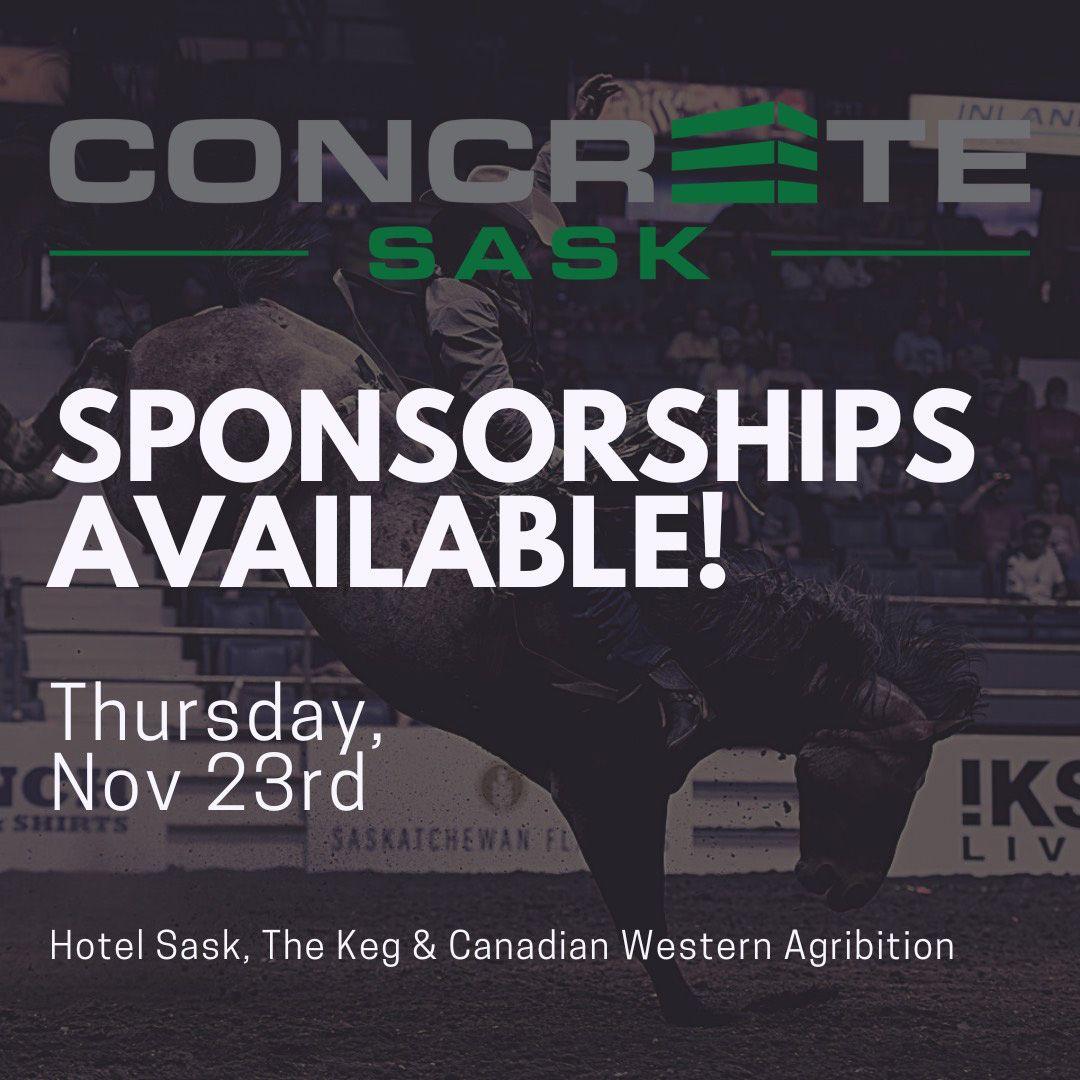 Registration Sponsor Deadline
ACI Concrete Field-Testing Technician – Grade I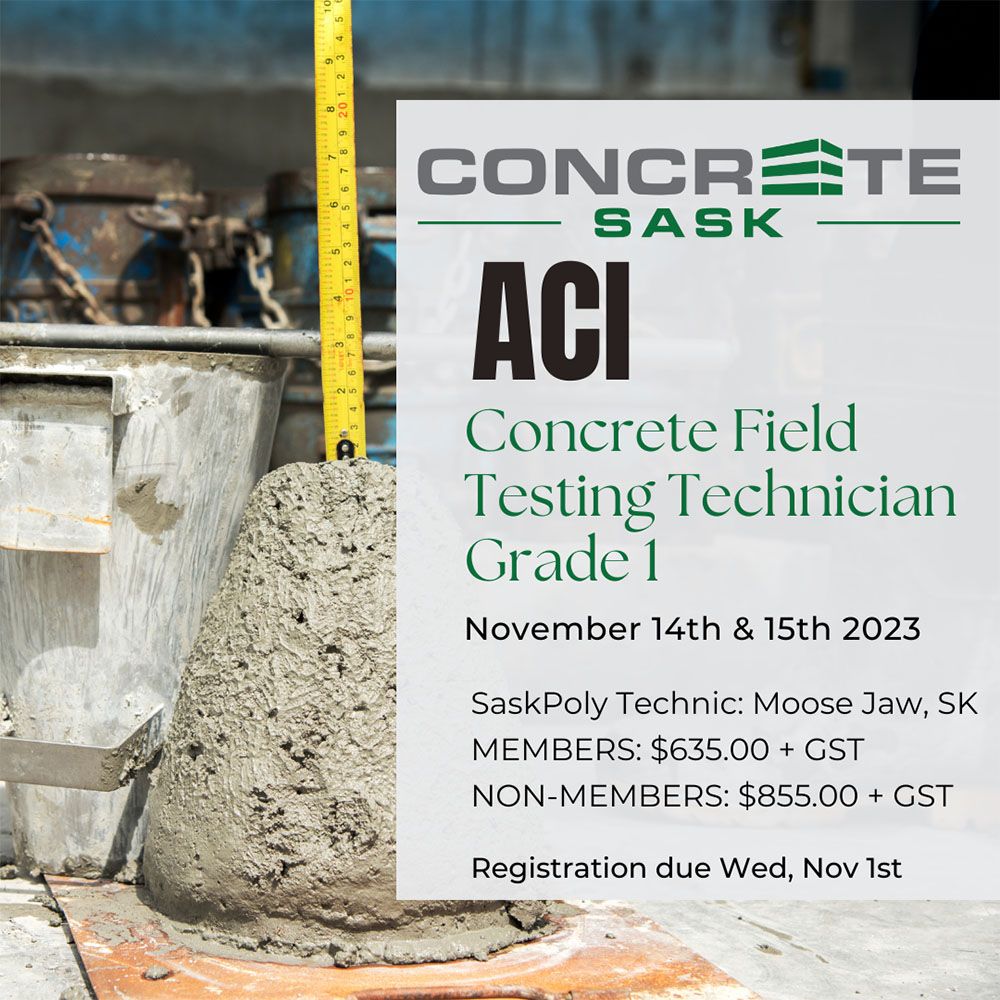 Tuesday, November 14th & Wednesday, November 15th 2023
Tuesday, November 14th – Begins at 8:30am in Sask Polytechnic, Moose Jaw SK
Wednesday, November 15th – Written & Practical Exam 8:00am Sask Polytechnic, Moose Jaw SK
A CSA Standards Concrete Field Testing Technician is an individual who has demonstrated the knowledge and ability to properly perform and record the results of eight basic field test methods and standard practices on freshly-mixed concrete as prescribed by Canadian Standards Association methods.
 The program requires a working knowledge of the following CSA standards:
A23.2–1C—Sampling Plastic Concrete
A23.2–5C—Slump of Concrete
A23.2–6C—Density, Yield, and Cementing Materials Factor of Plastic Concrete
A23.2–4C—Air Content of Plastic Concrete by the Pressure Method
A23.2–7C—Air Content of Plastic Concrete by the Volumetric Method (written exam only)
A23.2–3C—Making and Curing Concrete Compression and Flexural Test Specimens
A23.2–17C—Temperature of Freshly Mixed Hydraulic Cement Concrete
A23.2–19C—Slump Flow of Concrete